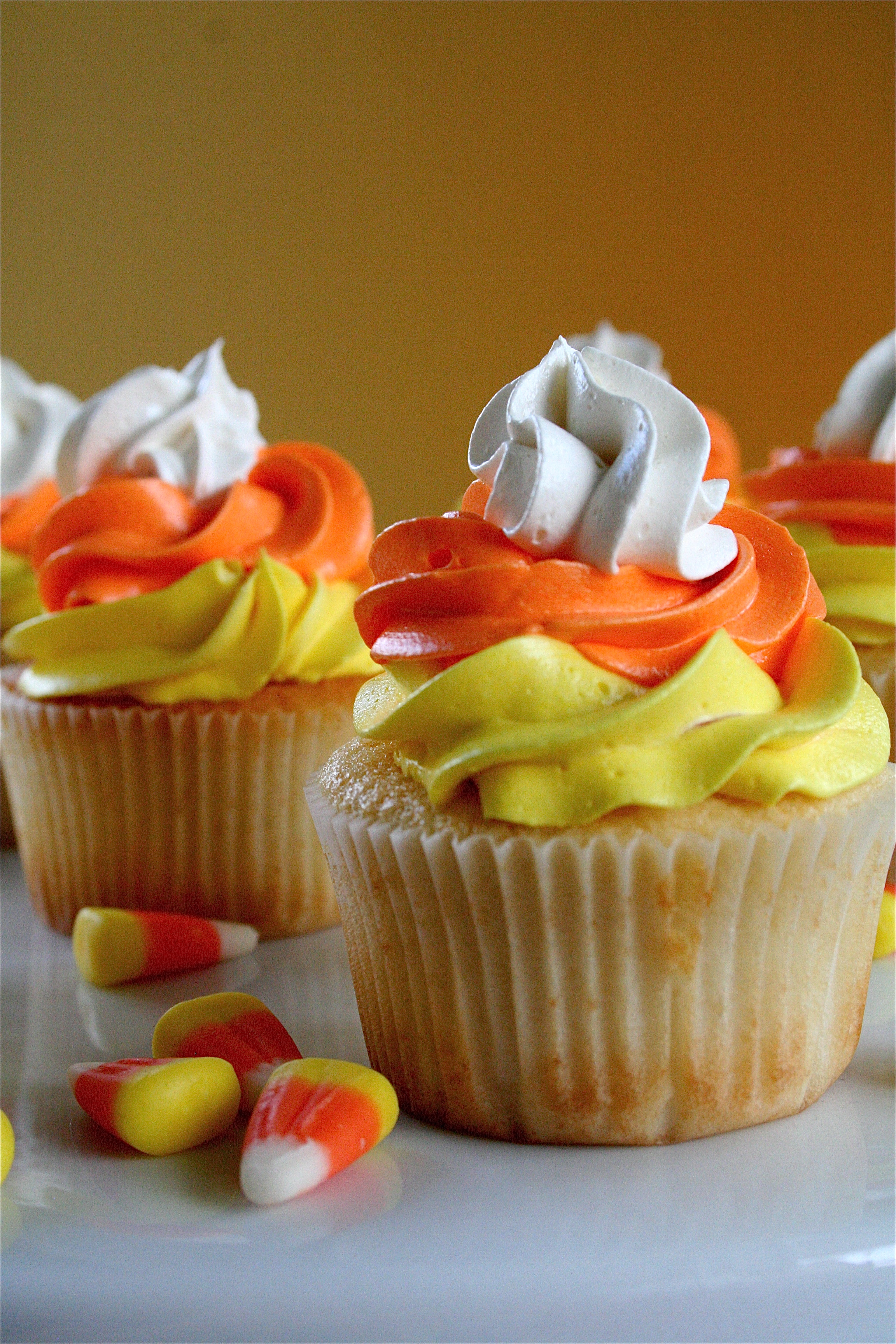 Fall is my favorite time of year.   I had been dreaming about these cupcakes for the past couple of weeks now and I finally had time to spend an afternoon making them.  When I went to the grocery store, I silently cheered:  the pumpkins are out, there are bags of Halloween candy on display, and the squash/corn/harvest displays make me so excited.  And those little baby decorative pumpkins?  I don't know what it is about them, but they just make me smile.  Every year.  Ok, ok.  Yes, I probably get way too much joy out of the little things, but, Fall has always had a special place in my heart.
After experimenting with a couple different batches of frostings, I decided to just go with a simple vanilla frosting and a white sheet cake recipe for the cupcakes.  I had initially thought that a butterscotch frosting would be really good for the candy corn frosting, but the texture and color of the one I made was not what I was envisioning.  But, never fear…I will find something to frost later today.  :)
I opened the box of cupcakes for my 3-year old nephew, Elliott, today.  Watching his eyes light up in excitement reminds me how wonderful life can be.
And, since voting has officially opened on Foodbuzz.com, if you like what you see and you are feeling generous, click here to vote for me.  I could be your Project Food Blog Star…..and every little vote counts.
Candy Corn Cupcakes
Servings: 24 cupcakes
Ingredients:
For the cake:
1 cup whole milk, room temperature
6 large egg whites, room temperature
2 teaspoons almond extract
1 teaspoon vanilla extract
2 and 1/4 cups cake flour
1 and 3/4 cups sugar
4 teaspoons baking powder
1 teaspoon salt
12 tablespoons (1 and 1/2 sticks) unsalted butter, cut into 12 pieces and softened
For the frosting:
3 sticks unsalted butter, cut into chunks and softened
3 tablespoons heavy cream
2 and 1/2 teaspoons vanilla extract
1/4 teaspoon salt
3 cups confectioners' sugar
Instructions:
1. For the cupcakes: Adjust oven racks to the upper-middle and lower-middle positions and heat the oven to 350 degrees.
2. Line two 12-cup muffin tins with cupcake liners.
3. Whisk the milk, egg whites, and extracts together in a small bowl.
4. In a large bowl, whisk the flour, sugar, baking powder, and salt together.
5. Using an electric mixer on medium-low speed, beat the butter, one piece at a time, into the flour mixture, about 30 seconds.  Continue to beat the mixture until it resembles moist crumbs, 1 to 3 minutes.
6. Beat in all but 1/2 cup of the milk mixture, then increase the mixer speed to medium and beat the batter until smooth, light, and fluffy, 1 to 3 minutes.  Reduce the mixer speed to low and slowly beat in the remaining 1/2 cup of the milk mixture until the batter looks slightly curdled, about 15 seconds.
7. Use a greased 1/4 cup measuring cup to pour the batter evenly into the cupcake liners.
8.  Bake the cupcakes, switching and rotating the pans halfway through baking, for a total of 15-20 minutes.  (Mine took about 20 minutes total).
9.  Let the cupcakes cool in the tins for 10 minutes, then transfer to a wire rack to cool completely.
10. For the frosting: Beat the butter, cream, vanilla, and salt together in a large bowl with an electric mixer on medium-high speed until smooth, 1 to 2 minutes.
11. Reduce the mixer speed to medium-low and slowly add the confectioners' sugar, and beat until incorporated and smooth, 4 to 6 minutes.  Increase the mixer speed to medium-high and beat until the frosting is light and fluffy, 5 to 10 minutes.
12.  Divide the frosting into three bowls and tint each with desired food coloring tint.
13.  Using your pastry bag and desired tip, pipe the frosting in a cone-shape on the cupcakes…and voila!
Source:  America's Test Kitchen Family Baking Book.