Looking for something new and yummy to fill those Trick or Treat bags? Try today's dressed up caramel corn recipe!
Last week I put together a care package for my college kids (actually two college kids and one college graduate!).
Last year I went all out with their Halloween care package.  Remember those darling Halloween buckets?
I filled them with those cute candy corn rice krispie treats.
And candy corn pretzel rods too…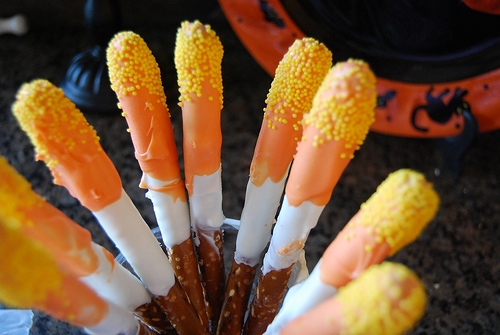 Well this year I didn't get quite as elaborate – just a few too many things going on around here this last week.
But they did get some candy corn cookie bark!
I also added in one of their favorite treats to get in a care package - caramel corn.  Not only is it yummy but it makes for great packaging material too!  Keeps everything well padded.
I always use my basic microwave caramel corn recipe - it's our favorite!
I decided to dress up the caramel corn a little bit this time.  I have jazzed it up before with a white chocolate drizzle which was awesome.  This time I decided to see what I had in my baking pantry.
There was a bag of cinnamon chips, butterscotch chips, chocolate chips, peanut butter chips and some white almond bark.  I love the combo of cinnamon and caramel so thought I 'd drizzle the cinnamon chips over the caramel corn but unfortunately the cinnamon chips would not melt – they just turned into one giant lump of cinnamon chips!
Onto the next idea…
I also love the combo of peanut butter and chocolate so I melted the peanut butter chips and drizzled them over the caramel corn and then melted the milk chocolate chips.  Then I sprinkled on some Reese's Pieces – can you really have too much peanut butter and chocolate??
The combo was awesome and looked Halloweenie too!

Next I decided to combine the white Almond Bark and Butterscotch chips.
It was amazing !  In fact it was my favorite and the one that disappeared first.  So sorry college kids – you are getting  just plain caramel corn!

Just pop up a batch of caramel corn and then see what's in your pantry!  Try my flavor combinations or make up one of your own.  If you come up with a good one – let me know!