Need some happiness in the form of a Rainbow Layer Cake?  I think yes!!
My daughter just recently celebrated her birthday. As I was looking for cake ideas I came across this idea for making a rainbow cake and of course my daughter and I both loved it. Who wouldn't want a rainbow layer cake for her birthday?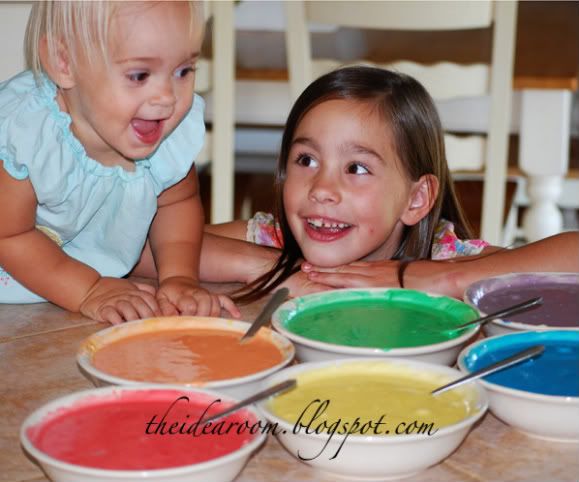 I took two white cake mixes and mixed them up in a large bowl according to the directions on the box. Then I divided the batter into 6 different bowls. Each bowl ended up with about 1 and 3/4 cups of batter each. Then I mixed some food coloring into each bowl to get my rainbow colors. I used the gel food colors rather than the liquid drops.
When each color is mixed, place batter into 6 separate round 9 inch pans. I only had three, so I baked 3 first and then when they had cooled, I transferred the cakes to a cookie sheet. I washed the pans and baked the other 3 cakes. Be sure to grease your pans well so that the cakes come out without sticking. I baked the cakes in a 350 degree oven for about 12 minutes.
After all the cake layers have cooled, place your bottom layer (purple) onto your cake plate. Add a thin layer of frosting. Place your blue cake layer on top of the frosting. Continue in this manner until you have added all your cake layers.
I have learned the trick for getting a nice clean frosting layer without all the cake crumbs in it. Have you ever had that problem? After you have your cake layers placed together, before you frost the rest of the cake, place your entire cake into the freezer for about an hour or so. Then take your frosting and lightly frost the entire cake.
This layer will have a lot of crumbs in it, but don't worry, they will not show. I forgot to take a picture of this step, sorry. Place your cake back into the freezer for another hour. This will seal your cake crumbs so that they will not stick to your final frosting layer. Take your cake out and frost the entire cake.
Right after I have frosted the entire cake, I take my flat spatula and dip it into a tall cup of hot water. Then with it clean of frosting, I run it over the frosting layer to give it a smooth finish. I continue washing the spatula in the hot water over and over until I like the results.
**Update—The Light and Fluffy frosting recipe I used for this cake is as follows:
Place 2 sticks of salted butter, at room temperature (otherwise you will get chunks of butter in your frosting), into mixer and whip together until nice and smooth. Then add 1 teaspoon of vanilla. Gradually add about ½ to ¾ of a bag (regular size about 4 cups? ) of powdered sugar (Confectioner's sugar). It will be a bit chunky and not very smooth. Gradually add 1 teaspoon of milk while mixing frosting. If it is still not the consistency you desire, add another teaspoon of milk until you get a nice thick frosting that is smooth. Then fold in 1 tub of Cool Whip. That's it. This makes a very light and creamy frosting. This is just enough for frosting this BIG cake. Make sure to go easy on the frosting between layers so you have enough to cover the entire cake.
My family was so surprised at the colorful cake awaiting them when we cut into it. The cake is so colorful it makes me happy just to look at it. Imagine how you feel when you are actually eating it.
This cake would be fun to make for all sorts of holidays too. I thought red and white layers would be fun for Dr. Seuss day to eat while you read his books together.